Molecular Manufacturing in 3 to 5 Years?
The United Kingdom's Engineering and Physical Sciences Research Council (EPSRC) recently sponsored an Ideas Factory on the "Software Control of Matter."
The result of this week-long multidiscipline collaboration is three ground-breaking research proposals that promise to bring molecular manufacturing closer to reality.
In its January 24 press release, "British Breakthrough Highlights Nanotechnology Policy Gap," The Center For Responsible Nanotechnology points out the growing disparity between the pace of advancement toward development of molecular manufacturing and the development of sound public policies to deal with the repercussions.
As the press release states:
"For the first time ever, a group of high-level scientists assembled for the purpose of inventing something as close as they could get to the long-sought nanotechnology goal of building precise products atom by atom. The remarkably advanced projects those scientists produced - which they hope to complete in as few as three to five years - suggest that the era of molecular manufacturing could arrive far more swiftly than previously imagined."
This is breaking news because it illustrates a dramatic shift in the thinking of the research community.
Just a few years ago, many in the scientific community refused to admit that molecular manufacturing was even feasible, much less on the horizon.
This denial of reality (after all, humans are complex molecular machines with the ability to produce copies of ourselves) was highlighted by the ongoing debate between Eric Drexler and the late Richard Smalley.
In the course of just 3 to 4 years, it seems the idea of molecular manufacturing has experienced widespread adoption, and the question has shifted from "Can it be done?" to "How, and when, will it be done?"
I believe that many years down the road, if we're still around, this shift will be viewed as a historically significant turning point.
In addition, the acceptance of such a seemingly audacious goal of a "matter compiler" - a device capable of building atomically precise products via computer control - a goal to be completed in 3 to 5 years amplifies Ray Kurzweil's claim that we're currently on the exponential curve of technological advancement, and further underscores the dire need for effective public policies.
As it stands, our lack of refined policy alternatives constitutes a serious crisis.
Humanity can ill afford to be unprepared when molecular manufacturing makes its initial appearance.
Originally posted January 30th, 2007
Britt Gillette is the founder of End Times Bible Prophecy and the author of Coming To Jesus and Signs Of The Second Coming. Receive his book 7 Signs of the End Times for FREE when you sign up for his monthly newsletter.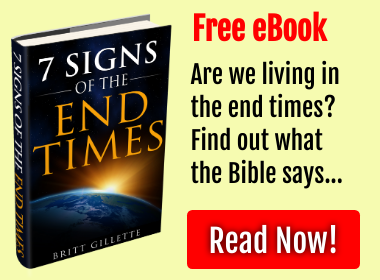 Return to the top of Molecular Manufacturing in 3 to 5 Years?
Return to Molecular Manufacturing
Return to the End Times Bible Prophecy Website Homepage