Bible Prophecy In The News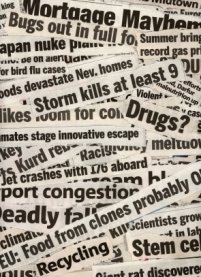 Can we see bible prophecy in the news?
Absolutely!
While a number of skeptics demand to see the evidence of Christ's imminent return, the evidence is all around us.
Ever since the miraculous rebirth of Israel as an independent nation in 1948, daily news headlines have offered believers a treasure trove of real world stories related to end times bible prophecy. In fact, expect to see a more frequent convergence of secular news stories and bible prophecy as we draw closer and closer to the time of Christ's return.
Some of my personal observations of bible prophecy in the news are listed below:
Ebola and Bible Prophecy
(10-07-2014)
Is Ebola mentioned in bible prophecy? And if so, is it a sign of the end times? These are the questions many people are asking in light of the recent outbreak of this deadly disease in West Africa. As Ebola spreads to countries outside of Western Africa, many people are beginning to wonder if this virus is one of the many plagues described in the Book of Revelation and the end times prophesied in the Bible. [Read more...]
Iran, Israel, and War
(11-02-2009)
Rumors of Iran, Israel, and war are everywhere you look in today's news headlines, and for those with knowledge of bible prophecy, this should command immediate attention. The bible has a lot to say Israel, its neighbors, and conflict in the last days. And much of what we see in today's headlines mirrors what we read in the Old Testament [Read more...]
Deflation and the Credit Crisis
(02-23-2009)
As world economy continues to falter, the expected response from world politicians is for calls of increased control of financial markets, increased regulation of everything, and greater cooperation (meaning liberty-curtailing regulation) among nations. In times of such crisis, the world needs to be on guard against demagogues. Why? History alone teaches us how destructive a single human leader can be. But the bible tells us that a charismatic leader of unparalleled evil will rise to prominence in the last days [Read more...]
Is Barack Obama The Antichrist?
(01-22-2009)
For over a year now, I've heard people from various walks of life speculate that Barack Obama is the Antichrist. Why is this? Well, there's a number of reasons. Unprecedented crowds of adoring fans throwing themselves at an American politician - both in the United States and abroad. Spectators crying and fainting after hearing him speak. Worldwide adoration and praise, with a near universal belief among supporters that Barack Obama can bring "change" which will bring about world peace... Oh, and talk of a civilian defense force stronger than the U.S. military doesn't help - that only adds fuel to the fire [Read more...]
Re: Is BarackObama The Antichrist?
(01-29-2009)
Since posting my original thoughts on this subject, I've received a number of emails from well-intentioned individuals who have been quick to point out the folly of my reasoning. Hopefully, I can better reiterate my position and clear up any confusion [Read more...]
Turkey's Role in Bible Prophecy
(01-20-2009)
Over 2,600 years ago, the prophet Ezekiel foretold of a day when a coalition of nations would gather together to invade the nation of Israel. Known as Gog and his hordes, this coalition will attack in the last days after the return of Israel's people from many lands. Included in this coalition is the nation of Turkey, a "Westernized" Islamic democracy which has recently begun to take a more belligerent stance toward Israel. [Read more...]
The Iranian Nuclear Threat
(01-16-2009)
The current Israeli incursion into Gaza has been a long time in coming. Ever since Israel pulled out of Gaza, it's been nothing but a breeding ground for Hamas and those seeking Israel's annihilation. But the real story in Gaza is not Hamas versus Israel, but Iran versus Israel (which is only a microcosm of Islam versus the rest of the world). [Read more...]
The Great Depression 2.0
(01-15-2009)
When people reflect on The Great Depression which gripped the global economy in the 1930's, the idea conjures a number of poignant images. Bread and soup lines... Factory closings... Wall Street suicides... The dust bowl... Union riots... Not to mention 25% unemployment and a near 90% drop in the stock market. But of course we don't have these problems today, so we can't even compare today's economic problems to those of The Great Depression. Right? [Read more...]
Hyperinflation
(11-13-2008)
Lately, I've run across a number of articles warning people to prepare themselves for hyperinflation in the United States. Inevitably, these warnings are accompanied by comparisons to Germany's Weimar Republic and its infamous bout with hyperinflation in the aftermath of World War I. But is this really something to be worried about? [Read more...]
A New Manhattan Project?
(09-22-2008)
The following news story was recently brought to my attention, and I think it's worth noting. [Read more...]
The Dawn of the Molecular Age?
(04-18-2008)
For the past year, I've posted a number of articles on the future development of molecular manufacturing (MM) and its relation to bible prophecy. In the time since those articles were first written, researchers have achieved some major milestones in the development of this powerful technology. So I thought I would provide an update for those who are interested. [Read more...]
Which Nation Is The World's Superpower?
(03-30-2008)
If you ask a dozen random people which nation is the world's greatest superpower, chances are almost every single person will give the same answer: the United States. But is this really true? And from where does this notion originate? [Read more...]
Where Is This World Headed?
(03-09-2008)
I recently read an article which touched on a subject the world is ignoring. Although the media pays some lip service to the ethical consequences of human technological advancement, such discussions ring hollow in an era that chooses to define morality on an on-going basis. Few people are really asking the question, "where is this world headed?" Previous generations were awestruck by the wonder of human invention and its seemingly magical applications, yet our current generation projects a more or less apathetic viewpoint. [Read more...]
Molecular Manufacturing in 3 to 5 Years?
(01-30-2007)
The United Kingdom's Engineering and Physical Sciences Research Council (EPSRC) recently sponsored an Ideas Factory on the "Software Control of Matter." The result of this week-long multidiscipline collaboration is three ground-breaking research proposals that promise to bring molecular manufacturing closer to reality. [Read more...]
Britt Gillette is the founder of End Times Bible Prophecy and the author of Coming To Jesus and Signs Of The Second Coming. Receive his book 7 Signs of the End Times for FREE when you sign up for his monthly newsletter.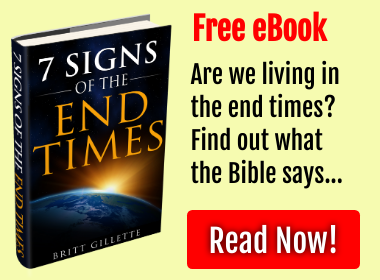 Return to the top of Bible Prophecy In The News
Return to Bible Prophecy In The News
Return to the End Times Bible Prophecy Website Homepage