A New Manhattan Project?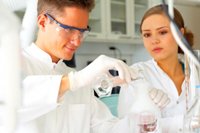 The following news story was recently brought to my attention, and I think it's worth noting:
WASHINGTON (CNN) - The dramatic drop in violence in Iraq is due in large part to a secret program the U.S. military has used to kill terrorists, according to a new book by Pulitzer Prize-winning journalist Bob Woodward.

The program - which Woodward compares to the World War II era Manhattan Project that developed the atomic bomb - must remain secret for now or it would "get people killed," Woodward said Monday on CNN's Larry King Live. [Read more...]
If this is true, then it raises a number of interesting questions. What is the purpose and/or product of this secret program? Is molecular manufacturing part of this undertaking?
Regardless of the true identity of the secret weapon Bob Woodward says exists, in all likelihood, it is not molecular manufacturing. Although molecular manufacturing would allow American forces to easily track and destroy terrorists, it would also be quite difficult to conceal for a protracted period of time.
This is due to the need to avoid a molecular manufacturing arms race, which would quickly result in unprecedented global destruction. To avoid such a dire outcome, the establishment of global government is inevitable.
Since Woodward's so called secret weapon has been deployed for some time, we can be all but certain it isn't molecular manufacturing.
However, Woodward's claim indirectly supports the idea that the development of molecular manufacturing is rapidly approaching.
I wrote the following back in 2002:
"The proliferation of nuclear, chemical, and biological weapons provides terrorists with an almost infinite number of options for attacking the global economic system. The financial and logistical impossibility of guarding against every possible attack necessitates the development of molecular manufacturing to defend our way of life. Just as December 7th catapulted the world into the Nuclear Age, September 11th will plunge it into the Nanotechnic Age."
In other words, the need to put an immediate end to a costly worldwide conflict in the early 1940's ultimately led to a heated race to create an atomic bomb. Likewise, the global war on terror, as well as more traditional geopolitical competition, will ultimately lead to the creation of molecular manufacturing.
At the very least, Bob Woodward is telling us that the United States government is engaged in serious military research and development efforts in order to achieve a breakthrough victory in the war on terror.
While it's doubtful that the breakthrough Woodward is celebrating is molecular manufacturing, we should have no doubt that the United States, or most likely another nation (or coalition of nations), will develop molecular manufacturing as a result of today's geopolitical climate.
When that happens, the developing nation(s) will begin a campaign for complete global domination - a campaign that will lead to the very Tribulation warned of by Jesus and the Prophets centuries ago.
Originally posted on September 22nd 2008
Britt Gillette is the founder of End Times Bible Prophecy and the author of Coming To Jesus and Signs Of The Second Coming. Receive his book 7 Signs of the End Times for FREE when you sign up for his monthly newsletter.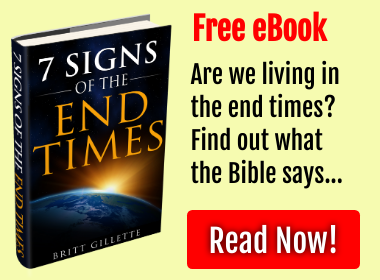 Return to the top of A New Manhattan Project?
Return to Bible Prophecy In The News
Return to the End Times Bible Prophecy Website Homepage