The Great Depression 2.0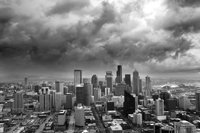 When people reflect on The Great Depression which gripped the global economy in the 1930's, the idea conjures a number of poignant images.
Bread and soup lines... Factory closings...
Wall Street suicides... The dust bowl... Union riots...
Not to mention 25% unemployment and a near 90% drop in the stock market. But of course we don't have these problems today, so we can't even compare today's economic problems to those of The Great Depression.
Right?
Keep in mind that the full force of The Great Depression didn't appear overnight. It started in 1929 and didn't reach its worst point until at least 1933 according to most historians. While the world kept telling itself, "things can't get worse" - things kept getting worse.
While the pundits continue to call the current global economic downturn a "recession," I'll go ahead and call it what it is: The Great Depression 2. This is humanity's sequel to the terrible economic collapse of 1929-1940.
Still aren't buying in?
Try these headlines...
Joe Weisenthal at Clusterstock points out an interesting tidbit of information:
One of the best-performing securities we've seen? The Intrade contract for the economy to go into a depression in 2009. Last time we checked, bettors gave just a 25% chance of the economy shrinking by at least 10% this year. Now: 52.5%. [More...]
The Intrade Prediction Market trades higher or lower based on real people's bets on the outcome of various events, which run the gambit from political elections to Academy Award nominations. While the site touts "the wisdom of crowds" (a phrase I find to be oxymoronic), it has a surprisingly solid track record when it comes to predicting the outcome of near future events.
So when the Intrade contract predicts a 52.5% chance of the U.S. economy contracting 10% in 2009, people should take notice.
Couple that with the following news story which only lends credence to the Intrade prediction...
Retail sales plunged far more than expected in December, ending a dismal holiday season with a record sixth straight monthly decline, and there's no relief in sight as consumer demand remains weak. The Commerce Department reported Wednesday that retail sales dropped 2.7 percent last month, more than double the 1.2 percent decline that Wall Street expected. The December plunge in sales, which followed a November drop revised downward to 2.1 percent, confirmed private sector reports that retailers had suffered their worst holiday shopping season since at least 1969. [>More...]
If you read further into the article, you'll find that retail sales were down 0.1 percent for 2008, the worst year in the history of the 14-year measurement. The second worst year? 2003, which witnessed a 2.4 percent increase!
As consumers reign in their spending to save for a rainy day, inventories are left in stores and warehouses. Factories are forced to close their doors, and workers are laid off. This causes a further contraction in consumer spending and global trade, sparking a vicious deflationary cycle which plays itself out over and over again until the economy reaches its bottom.
Also buried in this story is what should have been a page-one headline in every newspaper:
Many analysts believe the overall economy, as measured by the gross domestic product, plunged at an annual rate of 6 percent in the just-completed fourth quarter after dropping by 0.5 percent in the third quarter. [emphasis added]
While definitions of what constitutes an economic depression vary significantly, the Intrade contract defines one as a 10% contraction in GDP. Here's some GDP figures from the Great Depression:
1930 -8.6%
1931 -6.4%
1932 -13%
1933 -1.3%
If the fourth quarter of 2008 contracted at a rate of 6%, then it's within striking distance of the 8.6% contraction in 1930. In addition, the first quarter of 2009 promises to be abysmal to say the least. A disproportionate amount of retail sales in the United States occur between October and December. After the Christmas shopping season, most consumers are tapped out, choosing to pay off credit card debt and other bills rather than engage in discretionary spending. Throw in some of the worst unemployment numbers in 25 years, and this is a recipe for economic disaster to begin 2009.
Welcome to The Great Depression 2.0.
How could this be you may ask? The experts said The Great Depression could never happen again.
Yet again, worldly wisdom has proven to be foolishness.
"I expose the false prophets as liars and make fools of fortune-tellers. I cause the wise to give bad advice, thus proving them to be fools." Isaiah 44:25 (NLT)
Where are all the Wall Street wizards who predicted a quick economic turnaround?
Their voices are silent, because the wisdom of this world is foolishness.
"Fear of the Lord is the foundation of true wisdom. All who obey his commandments will grow in wisdom." Psalm 111:10 (NLT)
As we head into another Great Depression, what this world needs is not a quick economic turnaround, but rather a healthy and growing fear of the Lord.
If you've been disappointed after placing your faith in the things of this world, then don't dispair. I strongly encourage you to ask Jesus Christ to shower you with His loving grace. If you do, I gaurantee He will never disappoint you.
"I have told you all this so that you may have peace in me. Here on earth you will have many trials and sorrows. But take heart, because I have overcome the world." John 16:33 (NLT)
Britt
Originally posted on January 15th 2009
Britt Gillette is the founder of End Times Bible Prophecy and the author of Coming To Jesus and Signs Of The Second Coming. Receive his book 7 Signs of the End Times for FREE when you sign up for his monthly newsletter.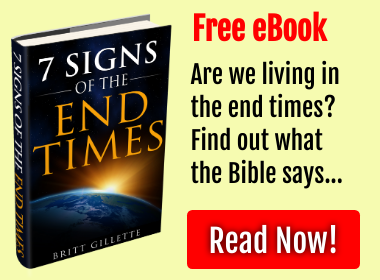 Return to the top of The Great Depression 2.0
Return to Bible Prophecy In The News
Return to the End Times Bible Prophecy Website Homepage