New Living Translation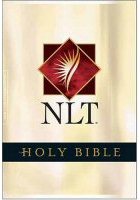 All Bible verses quoted on End Times Bible Prophecy are drawn from the New Living Translation of the Bible.
Why?
Because this is the version of the Bible I personally read, and therefore, the one I reference when quoting the Scriptures for articles on the site.
This doesn't mean I believe the New Living Translation is superior to other translations, or that other translations are inferior...
It simply means that I prefer its use of a modern-day English vocabulary that helps me to better understand God's Word.
Return to the top of New Living Translation
Return to the End Times Bible Prophecy Website Homepage