The End Times Bible Prophecy Box Set: 3 Books in 1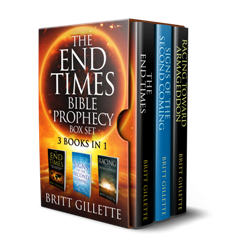 Description
Are we living in the end times? What are the signs of the Second Coming? Are we on the verge of Armageddon? Find the answers to all these questions and more in this three-book box set!
The End Times Bible Prophecy Box Set has over 250 five-star reviews across all books and platforms. Written in easy-to-read, conversational language, this collection examines the key people, nations, and events of the end times - all for more than 40% off the cover price of buying the individual books!
The End Times Bible Prophecy Box Set includes the following three full-length books:
Signs of the Second Coming
Racing Toward Armageddon
The End Times
Combined, these three books have over 250 five-star ratings.
Buy all three books for less than the cost of buying two of the books at regular price!
Where To Buy It
You can buy this special ebook box set at the following online retailers:
Retailers
Amazon
Apple iBooks
Google Play
Kobo
Nook
Smashwords
Return to the top of The End Times Bible Prophecy Box Set
Return to the End Times Bible Prophecy Website Homepage