Bible Prophecy Today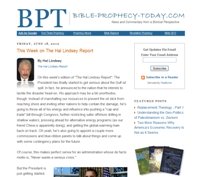 Run by Roger Welty, Bible Prophecy Today has grown into an information hub for anyone searching for the latest bible prophecy news and commentary.
Set up in a blog format, the site features regularly updated content with articles appearing in descending order from newest to oldest.
The right sidebar features a wealth of informative links to countless bible prophecy resources, and anyone wishing to learn more about bible prophecy should bookmark this site as one of the top resources on the Internet.
Bible Prophecy Today Commentary
The heart and soul of Bible Prophecy Today is the regularly updated commentary. Which sometimes means multiple articles per day, as the site highlights commentary from a wide variety of contributors.
Below is just a partial list of some of the authors featured:
Jim Fletcher
Wilfred Hahn
Mark Hitchcock
Dave Hunt
Thomas Ice
Terry James
Nathan Jones
Jack Kelley
Jack Kinsella
Tim LaHaye
Hal Lindsey
Jan Markell
Michael Mickey
Chuck Missler
David Reagan
Joel Rosenberg
Bill Salus
Todd Strandberg
And more...
A much more exhaustive list is posted on the Bible Prophecy Today website. But rest assured that if someone out there is writing about bible prophecy, odds are you'll find them on BPT.
Stay Updated
Don't like the idea of constantly checking the Bible Prophecy Today website for the latest news and commentary?
Then subscribe to updates via feedburner and have the latest news delivered straight to your inbox.
What's Going On In Bible Prophecy Today...
In short, you can find out what's going on in the world of bible prophecy today. BPT offers a snapshot of what's going on from revelant news headlines to the latest commentaries.
You also get links to:
Recommended Books
Upcoming Events
Blogs
Websites
Newsletters
Magazines
Prophecy Forums
Web Radio Shows
Tours to Israel
Online Bibles
Bible References
Charities
Zionist Organziations
Bible Study Resources
And more...
As a general resource and starting point for exploring the topic of bible prophecy, the BPT website is probably second only to Rapture Ready. I highly recommend paying it a visit.
Britt Gillette is the founder of End Times Bible Prophecy and the author of Coming To Jesus and Signs Of The Second Coming. Receive his book 7 Signs of the End Times for FREE when you sign up for his monthly newsletter.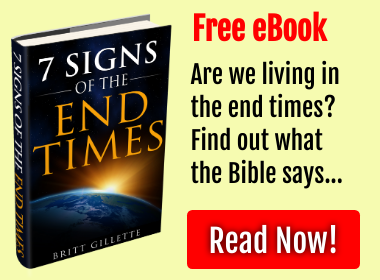 Return to the top of Bible Prophecy Today
Return to Bible Prophecy Ministries
Return to the End Times Bible Prophecy Website Homepage