Samantha Grace Gillette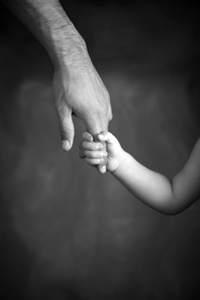 This article originally posted on November 13th 2008...
It's been more than six weeks since my last article, the longest stretch of time by far since I first started posting articles to the site.
Many of you have emailed me wondering where I've been or when the next post is coming.
Rest assured that I haven't fallen away from the faith, nor have I lost interest in proclaiming the wonder of God's prophetic Word or the Good News of our Savior Jesus Christ! But I have been preoccupied with matters other than writing new articles.
On September 29th at 10:13am, my wife and I were blessed with the birth of a little baby girl - Samantha Grace Gillette (7 lbs 5 oz).
This is a true blessing from God who created all of us from nothing and formed us according to His will:
"You made all the delicate, inner parts of my body and knit me together in my mother's womb. Thank you for making me so wonderfully complex! Your workmanship is marvelous - how well I know it. You watched me as I was being formed in utter seclusion, as I was woven together in the dark of the womb. You saw me before I was born. Every day of my life was recorded in your book. Every moment was laid out before a single day had passed. How precious are your thoughts about me, O God. They cannot be numbered! I can't even count them; they outnumber the grains of sand! And when I wake up, you are still with me!" Psalm 139:13-18 (NLT)
While I haven't been serving the Lord by writing articles the last six weeks, I have done my best to answer emails, while the archived articles on the site continue to reach more and more people via Google and other search engines (search engine traffic is up over 50% this month).
But more importantly, I've been doing my best to serve the Lord Jesus Christ by being a faithful husband and father.
Since before she was born, I've said a daily prayer for Samantha. My prayer is that she will follow Jesus for all the days of her life.
Nothing else matters.
I don't wish for her any special talents or great wealth or worldly accolades. Only that she follows the Lord, and I will do my best to guide her down the path to truth:
"And you must commit yourselves wholeheartedly to these commands that I am giving you today. Repeat them again and again to your children. Talk about them when you are at home and when you are on the road, when you are going to bed and when you are getting up." Deuteronomy 6:6-7 (NLT)
Please say a prayer for our family, and especially for our daughter Samantha - one of the newest members of God's family - as we do our best to glorify God.
"But as for me and my family, we will serve the Lord." Joshua 24:15 (NLT)
I'll do my best to get back to regular posting of articles as soon as possible. In the meantime, thank you for your thoughts and prayers.
Your friend in Christ,
Britt
Return to the top of Samantha Grace Gillette
Return to the End Times Bible Prophecy Website Homepage