About Us
Hi! I'm Britt Gillette, author of most of the articles you'll find on End Times Bible Prophecy.
Currently, I live in Virginia with my wife Jen, our daughter Samantha, and our son Tommy.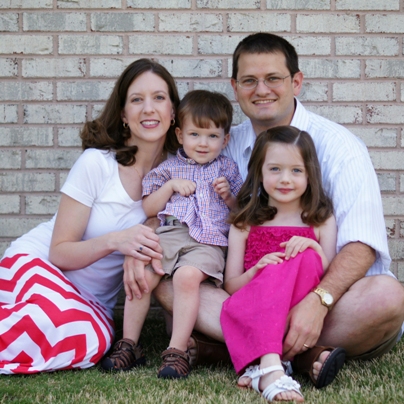 If you've clicked on the "Submit Your Prayer Requests" icon in the site's upper right hand corner, then you're probably already familiar with Jen. She's the one who reads, responds to, and takes action on all the prayer request submissions we receive.
Just in case you have some questions about who we are, here's some more information...
Our Passion for Bible Prophecy
Our family regularly reads the Bible, and we remain fascinated with the knowledge and wisdom found within its pages. Bible prophecy, in particular, is a subject we regularly discuss.
Not only does bible prophecy confirm the Bible's authenticity as the legitimate Word of God, but the overwhelming majority of unfulfilled bible prophecy points to our day and time. How can I be so sure?
Well, the clearest indication of Christ's imminent return is the rebirth of the nation of Israel, foretold thousands of years ago by the Old Testament prophets. Jesus also pointed to this sign as the key event announcing the timeframe of His return:
"Now learn a lesson from the fig tree. When its buds become tender and its leaves begin to sprout, you know without being told that summer is near. Just so, when you see the events I've described beginning to happen, you can know his return is very near, right at the door. I assure you, this generation will not pass from the scene before all these things take place. Heaven and earth will disappear, but my words will remain forever." Matthew 24:32-35 (NLT)
Our Lord Himself pointed to our generation as the one which would witness His return! Yet so many Christians and non-Christians alike remain ignorant of God's Word and the events prophesied for these times.
As a result, our family feels compelled to share our knowledge on the subject, and hopefully present our case in such a way that others will learn the truth and spread the Word themselves.
About End Times Bible Prophecy
Our online ministry first began with BrittGillette.com, a domain name we already had on hand. But we soon realized we needed a better website and a more descriptive domain name.
You can read here about our transition to End Times Bible Prophecy.
Many of the articles which first appeared on BrittGillette.com and now appear on End Times Bible Prophecy have been republished across the Internet on such popular websites as Rapture Ready, Rapture Alert, Prophezine, Stan Deyo, eZineArticles, and others.
You can even listen to an interview I gave on Live with Jeff & Lee on KKMS 980 AM in Minneapolis / St. Paul.
Our Beliefs
Our family reads the Bible on a daily basis, believing it to be the inerrant Word of God. We believe Jesus Christ is God in the flesh. He died on the cross, His blood serving as atonement for our sins, and He then rose from the dead.
This statement of faith summarizes our core beliefs, which are the basis for all the content found on End Times Bible Prophecy.
Emerging Technology
Because of the exponential advance of technology, and the role it plays in modern day life, many noticeable parallels between bible prophecy and emerging technology have cropped up.
End Times Bible Prophecy researches these technologies and technological trends and examines them in the light of bible prophecy in order to further inform readers. That's why you'll encounter numerous articles on the site which reference these topics.
Any mention of a specific technology's role in the fulfillment of end times bible prophecy is purely speculative in nature and is made in order generate further thought and discussion about some of the most important topics of our day.
Let me clear - this site makes observations, not predictions or prophecies. Hopefully, the difference is clear to the reader.
Questions?
If you have any questions, feel free to contact us.
Also, if you would like to submit your prayer requests, Jen eagerly awaits them!
Enjoy!
Well, that's about all for the "About Us" section of the website.
We hope you enjoy reading through End Times Bible Prophecy. Make sure you check out all the articles on the site.
Return to the End Times Bible Prophecy Website Homepage