Encouraging Bible Verses
Below are some encouraging bible verses.
With all that's going on in the world today, sometimes life can be overwhelming.
That's why it's more important than ever to feed yourself daily with the Word of God.
By commiting God's Word to heart, we build our lives on the rock that is Jesus Christ.
Hopefully, these encouraging bible verses will help to lift your spirits while we endure the trials and tribulations of this world in eager anticipation of His Coming Kingdom!
"Faith is the confidence that what we hope for will actually happen; it gives us assurance about things we cannot see. Through their faith, the people in days of old earned a good reputation. By faith we understand that the entire universe was formed at God's command, that what we now see did not come from anything that can be seen." Hebrews 11:1-3 (NLT)
"What's more, the Scriptures looked forward to this time when God would declare the Gentiles to be righteous because of their faith. God proclaimed this good news to Abraham long ago when he said, 'All nations will be blessed through you.' So all who put their faith in Christ share the same blessing Abraham received because of his faith." Galatians 3:8-9 (NLT)
"And it is impossible to please God without faith. Anyone who wants to come to him must believe that God exists and that he rewards those who sincerely seek him." Hebrews 11:6 (NLT)
"For you know that when your faith is tested, your endurance has a chance to grow." James 1:3 (NLT)
"The commandments of the Lord are right, bringing joy to the heart. The commands of the Lord are clear, giving insight for living." Psalm 19:8 (NLT)
"You have shown me the way of life, and you will fill me with the joy of your presence." Acts 2:28 (NLT)
"I will be filled with joy because of you. I will sing praises to your name, O Most High." Psalm 9:2 (NLT)
"Those who have been ransomed by the Lord will return. They will enter Jerusalem singing, crowned with everlasting joy. Sorrow and mourning will disappear, and they will be filled with joy and gladness." Isaiah 35:10 (NLT)
"He heals the brokenhearted and bandages their wounds." Psalm 147:3 (NLT)
"Have compassion on me, Lord, for I am weak. Heal me, Lord, for my bones are in agony." Psalms 6:2 (NLT)
"Let all that I am praise the Lord; may I never forget the good things he does for me. He forgives all my sins and heals all my diseases." Psalm 103:2-3 (NLT)
"But you, O Lord, are a God of compassion and mercy, slow to get angry and filled with unfailing love and faithfulness." Psalm 86:15 (NLT)
Britt Gillette is the founder of End Times Bible Prophecy and the author of Coming To Jesus and Signs Of The Second Coming. Receive his book 7 Signs of the End Times for FREE when you sign up for his monthly newsletter.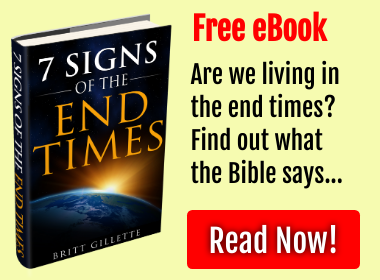 Return to Encouraging Bible Verses
Return to the End Times Bible Prophecy Website Homepage